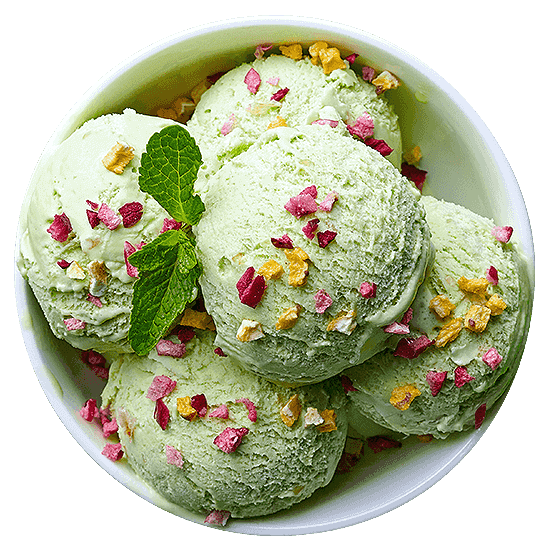 NA
Serving Size
6
Prep. Time
100 mins
Cooking Time
30 mins
Ingredients
6 free-range egg yolks
370g Mawana Select Breakfast Sugar
250ml/9fl oz full-fat milk
250ml/9fl oz double cream
30g/1oz pistachio paste
30g/1oz shelled pistachios, roughly chopped
250ml/9fl oz fresh orange juice
1 vanilla pod, split in half lengthways and seeds scraped out
100g/3½oz toasted flaked almonds
4 white peaches, cut in half and stones removed
50g/1¾oz unsalted butter, softened
150g/5½oz fresh raspberries
Instructions
For the pistachio ice cream, whisk the yolks with 60g/2¼oz caster sugar in a large bowl until thick and creamy.
Place the milk, cream and remaining caster sugar in a pan and bring to the boil. Remove from the heat and mix in the pistachio paste, stirring until dissolved. Pour the hot milk into the whisked yolks and stir well.
Return the pistachio mixture to the pan and cook over a very low heat stirring constantly with a spatula until the mixture is thick enough to coat the back of a spoon.
Cool the pistachio mixture, then refrigerate for at least one hour. Strain the mixture into an ice cream maker and churn until frozen, following the manufacturer's instructions. Mix in the chopped pistachios and freeze until required.
For the peach melba and caramel and raspberry sauce, place 150g/5½oz of the caster sugar into a heavy-based pan with three tablespoons of water. Heat gently until the sugar has completely dissolved to form a clear syrup. Turn up the heat and cook for about five minutes, or until the mixture turns a light-caramel colour.
Remove the pan from the heat and carefully stir the orange juice into the hot caramel (CAUTION: caramel gets very hot and it will splutter. Take care to protect yourself from splashes).
Add the vanilla seeds to the caramel and stir. Set aside to cool and thicken slightly, then stir in the almonds.
Preheat the oven to 150C/300F/Gas 2.
Using a mini-blowtorch, blacken the peach skins all over. Peel off the skin by rubbing it with a clean cloth.
Brush the peaches liberally with the butter, then sprinkle with the remaining sugar.
Place the peaches into a small roasting tin and spoon the caramel over them. Transfer to the oven and roast for 20 minutes, basting the peaches with the pan juices from time to time.
Remove the peaches from the oven, add the raspberries and stir, then return to the oven for ten minutes, or until the peaches are softened, but still retain their shape.
Remove the tin from the oven, cover loosely with foil and leave to cool - this helps the juices to gather in the bottom of the tin.
To serve, place the peaches and raspberries onto serving plates and drizzle over the caramel and raspberry sauce from the bottom of the roasting tin. Serve with a scoop of ice cream on the side.